Today, it appears we have advanced – in the past, humans were good with a small wooden deck in their backyard. Now, we have developed so many unique ideas – like small ponds filled with fish, unique flower beds, outdoor kitchens, and well thought out fire pits.
I personally love my fire pit – it is calming and gives me a chance to sit under the stars while I stay warm.  There's just something about having a real fire in my own backyard. Having a fire burning in my backyard is fine because I live in the country and most rural areas allow this. However, if you live in the suburbs or city, it is important that you check with your fire department to make sure this is something you can have.
A fire pit in the backyard has to look nice, but at the same time, you need to make sure the fire is contained so that it doesn't cause trouble. Go ahead and check your ordinances, fire code and permit requirements in your area – there could also be some fuel restrictions as well.
Common Regulations
Where the fire pit is placed will all depend on where you live. Most communities will require you to put the fire pit a specific distance from home. Some communities will even require a permit and a site inspection from your local fire department. Then, you have other communities that have a ban on open fires. It is best that you check with rules in your community before you move forward with your plans for a fire pit in your backyard. To give you a rough idea of the regulations, I am going to give you a list of the common regulations that I found throughout the country …
Keep the Pit Away from Objects – It's obvious that you need to keep the fire away from trees, from homes and from any other structures. Before you start digging in the ground (where you will be placing your pit), make sure you check for cables and pipes. Also, you may want to look over your homeowner's insurance to make sure they allow fire pits (some may require you to change your policy).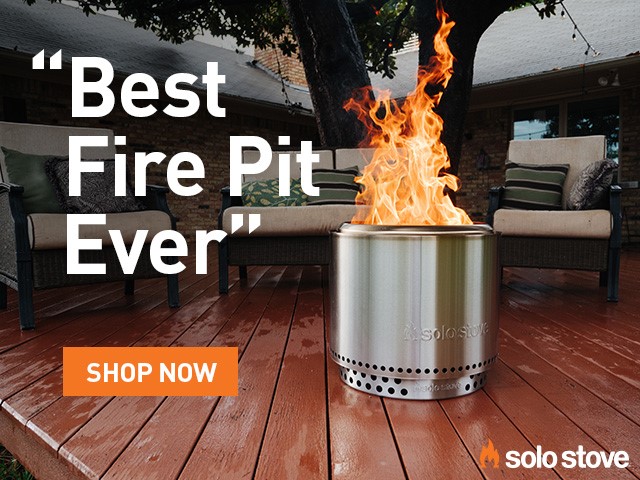 Fire pits should be placed at least 25 feet from buildings and other structures like fences, sheds, trees, shrubs, and decking. Depending on the code, if the fire pit is portable, this could be reduced down to 15 feet. For overhead branches, 21 feet is the minimum vertical clearance requirement.
Check the Wind Pattern – I have friends that have placed their firepit neatly in an area only to find that smoke blows right into their home – obviously, this is something you will want to avoid. So, before you set up your pit, check the wind pattern around your home.
Installing a Gas Line – If you go for a fire pit that requires a gas line, installing one is definitely going to require you to get a permit.
What You Cannot Burn – In your fire pit, it is forbidden that you burn painted or treated wood, wet or unseasoned wood, wood products that contain glue, yard waste, garbage, and cardboard. When you burn these, it can release smoke that is harmful to you and the people in the area. Materials that contain plastic, paint, asphalt, or rubber should be avoided.
Fire Pit Safety
Within Reach of a Hose – I recommend making sure you always have a hose around your fire pit just in case something goes wrong.
Emergency Shut Off Valve – The gas fire pit should have an emergency shut off valve within 6 feet. You shouldn't use it in order to adjust the height of the flame.
Never Leave it Alone – You need to stay near the fire pit at all times until it has been turned off.
Remove Combustible Materials – Before you start the fire pit up, make sure you have removed all combustible materials like paper and leaves.
After the Pit is Built
After you have officially finished your fire pit, you need to make sure you take care of it so that it will last for a long time. After you use it and it has cooled down, remove the ashes. By removing the ashes, more oxygen will be able to reach the bottom of the fire, which will make it burn better.
Conclusion
There's just something about having a fire pit in your backyard and if you live in an area that allows it, you probably already know how lucky you are. There are so many different ideas for fire pits, just make sure you follow the rules and regulations in your area – remember, if you're not sure about those regulations, check with your local fire department.